On our last visit we watched the Tree Swallows taking care of their young at Walney Pond.
As you can see this nesting box is secured on a pole which is surrounded by water. There is another on the other side of the pond. A safe haven for baby birds.
~~~~~~~
Thank you Misty for hosting one of my favorite memes, and please
click here
to visit other interesting critters from all over the world.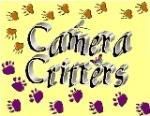 I am linking to Anni's Bird D'Pot which you can find
here
.