Saturday night Gregg and I had a very enjoyable evening listening to the American Festival Pops Orchestra at the Hylton Theatre Arts Center in Manassas. They performed a salute to our Veterans. We listened to patriotic music from WWI to the present day. There was a young lady who joined in for two or three of those songs, a soprano from the Washington National Opera. She sang beautifully.
I took the photos when we first arrived and the orchestra and audience were just beginning to seat themselves......
and Gregg was reading the program we had been given at the door.
There is also box seating up there.
We arrived a half hour early but it wasn't long before the performance began. Throughout I was very impressed with the conductor talking to his audience as though we were all sitting in his home, so naturally warm and friendly with a great sense of humor. He is the founder and artistic director and also Associate Director of George Mason's School of Music, who had brought together 60 very talented musicians from the DC metro area. He had his audience captivated as did this wonderful orchestra. We heard pieces originally composed by George M. Cohan, John Williams, Duke Ellington, Glen Miller and John Phillip Sousa.
High energy music for most of the evening, but there was a slow piece playing in the background as a letter going back to the Civil War was read by one of the conductor's neighbors, a two star army general. He spoke eloquently. The letter was written by a man called Sullivan Ballou to his wife, a soldier who was subsequently killed a week later at the First Battle of Bull Run. It was very moving and you can actually read that letter
if you click here
.
All round a fabulous evening and one we look forward to repeating at another concert in the not too distant future.
Earlier on in the day we went out for lunch. Gregg felt like a hamburger but I asked if we could find a new place, rather than go to the usual ones we've been to before.
I remembered several weeks ago our son told us about The Counter at the Reston Town Center. He had said the burgers were great and so we decided to drive over and give it a try, about a half hour drive.
When we looked at the menu we found the items a little pricier than usual, but everything was organic and I try to eat organic foods whenever I can. They have a set menu but you can also build your own burger, choosing the size, what kind of roll you want, any kind of topping, ticking all these off on a form you give to your waiter. He was very nice by the way and that's always a big plus. Much to our delight we both agreed that they were the best burgers we have had in a long, long time.
To be perfectly frank I couldn't decide what toppings to use on my burger, there were a lot of choices and when we go there again, I will not order the guacamole but go for the lettuce mix and the sundried tomatoes. I loved the roll and the blue cheese and the grilled onions, but I will probably also check the menu ahead of time so that I will be more prepared.
Gregg had a horseradish cheddar cheese, a slice of avocado and chopped red onions. He had a ranch dressing on the side. Of course he says the best topping is French's mustard, a true American Classic. I'm not a fan which I know he finds strange because he says a cheeseburger without French's mustard is like McDonald's without the golden arches. I said I don't think a classic burger has avocado on top either but we're both open to new taste sensations and we both like avocado.
We also added onion strings, rings or whatever they're called. They were good but a little too much food and the burger was more than enough. We will probably not get them again.
We probably won't be going here too often as it's just that much further away, but next time Gregg feels like a burger, it's definitely the place we'll head for.
You can click here
to check out their website.
Sunday was a quiet day. Gregg enjoyed his football games and I enjoyed relaxing and pottering around the house.
To those of you who are celebrating it this Thursday, I want to wish you a Happy Thanksgiving. May you all have a wonderful day with your loved ones.
This is nothing to do with the holiday but as I have been talking about food and it's been a while since I put a recipe on my blog, I thought I would add a dish that I made the other night. I got it off the Food TV Network. I am always hunting around for soup recipes now that the colder weather is here and we also have some tried and true favorites that I have been making for years, but an added bonus for this one is being able to prepare it first thing in the morning. By the time Gregg walked through the door the house was filled with a wonderful aroma. This is for the Slow Cooker (Crockpot) and I had everything inside the pot by 9.15 a.m.
The show is called "Quick Fix Meals with Robin Miller" and you can find the recipe
right here
.
Minestrone Soup with Pasta, Beans and Vegetables
Total time:
4 hours 15 minutes
Preparation time:
15 minutes
Cooking Time:
4 hours 0 minutes
Ingredients:
3 cups reduced-sodium vegetable or chicken broth (I used vegetable)
1 (28-ounce) can diced tomatoes
1 (15-ounce) can white Cannellini or Navy beans, drained
2 carrots, peeled and chopped
1 celery stalk, chopped
1 cup onion, chopped
1 teaspoon dried thyme
1/2 teaspoon dried sage
2 bay leaves
Salt and ground black pepper
2 cups cooked ditalini pasta
1 medium zucchini, chopped
2 cups coarsely chopped fresh or frozen spinach, defrosted
4 tablespoons grated Parmesan or Romano cheese
Basil sprigs for garnish (optional)
Directions:
In a slow cooker, combine broth, tomatoes, beans, carrots, celery, onion, thyme, sage, bay leaves, and 1/2 teaspoon each salt and black pepper. Cover and cook on LOW for 6-8 hours or on HIGH for 3 to 4 hours.
Thirty minutes before the soup is done cooking, add ditalini, zucchini and spinach. Cover and cook 30 more minutes. Remove bay leaves and season to taste with salt and black pepper.
Ladle soup into bowls and sprinkle Parmesan cheese over top. Garnish with basil if desired.
We both enjoyed the soup and it will be one I will be making again.
I had one request from Gregg, to use cabbage instead of spinach next time. He doesn't really like cooked spinach and I had thought that because it was part of many other ingredients that I could slip it on by, but I saw that he had left quite a lot of the dastardly green stuff in the bottom of his bowl, and he had actually picked out as much as he could. He also said it had taken 60 years for him to eat cooked spinach - meaning why would I cook it after all this time? Yes I am smiling. Every once in a while I try to camouflage said dastardly vegetable into a dish and we play this game, will he find it? I used to play the same game with beloved son, like all mothers have done at some point I'm sure. Sometimes it worked and sometimes it didn't. This is one of the times it didn't.
The other thing I didn't do which I wish I had, was to thaw the packet of frozen spinach out before I put it into the pot. I took it out of the freezer last night and it was still a block of ice this morning. What I should have done was thaw it out in the microwave, or remember to take it out earlier to thaw in the fridge.
Also the carrots were cooked but what you would call crisp-tender. Some people like this - Gregg does - but I like my carrots totally cooked through, I don't enjoy the al dente effect. Now, did I alter the cooking time by putting in the frozen spinach? That could well have been the case. Or should I parboil the carrots before I put them in the crock-pot? Puts an extra couple of steps in there but wouldn't be too bad. I cooked this soup on low for 8 hours and maybe I should have cooked it on high. Everyone's crockpot is different. All this being said, I will be making this soup again as the broth and other ingredients were delicious. I will, however, be using cabbage next time and also making sure the carrots are cooked to the way I like them.
I had also made some cornbread and it went very well with this.
For those of you who have never had cornbread, I have included this recipe I found online. I took the easy way out and used Jiffy, a mix from a box. This is Gregg's favorite, his Mom used to make it for him. That's good enough for me, and he always has seconds. I remember the first time I ever tried it at one of my first meals when his Mom cooked for us as a married couple. It was delicious and what I thought was, "Hmmm, interesting, Americans actually eat cake with their main meal." Of course, it isn't 'cake' but it is on the sweeter side, more than bread. It's more crumbly, just like cake can be. Hence my confusion at the time because I hadn't been in this country long. I had experienced a lot of new taste sensations. Traditionally it is served with chicken or turkey. People will often make cornbread stuffing at Thanksgiving. You can find a recipe for that
here
.
The following recipe I have not made before but it does look good and it will be a change to make cornbread from scratch, which I have not done in a very long time, thanks to Jiffy. Jiffy has always been fail-proof.
I got it here
, from a blog called The Fresh Loaf, and the recipe also gives you a pretty good history of corn. For instance, did you know that it was first cultivated in southern Mexico 7,000 years ago?
Basic Cornbread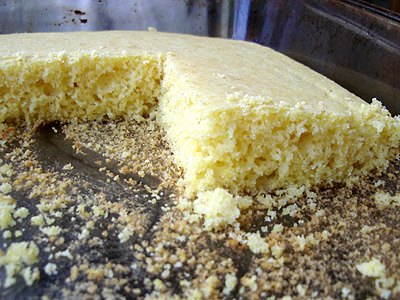 1 cup corn meal
1 cup all-purpose flour
1/4 cup sugar
1 tablespoon baking powder
1 teaspoon salt
1 cup milk
1/3 vegetable oil
1 egg
Preheat the oven to 400 degrees.
Combine dry ingredients in one bowl, wet ingredients in another. Combine the two and mix until just blended. Pour into greased pan. Use an 8 x 8 inch pan if you like it fairly (2 to 3 inches) thick or 13 x 9 inch pan if you like it thin. I used a 13 x 9 inch pan for the loaf pictured above, which produced a 1 inch thick loaf.
Bake for 20 to 25 minutes or until a toothpick inserted into the center comes out clean. Remove and serve while still warm.